World Skills Competition is considered to be the Olympics for Skills, it is one of the biggest Skills Competition organized at one place. It happens once in two years in multiple country.
World Skills has built a movement that is changing the lives of young people through skills. 85 Member organizations reach two-thirds of the world's population and create measurable impact at every level. We inspire young people to develop a passion for skills and pursuing excellence, through competitions and promotions. We develop skills through global training standards, benchmarking systems, and enhancing industry engagement. We influence industry, government, and educators through cooperation and research — building a global platform of skills for all. The World skills movement built the confidence of millions of young people, empowering communities and fueling economies. World Skills is a movement of change.
India Skills -
National selection
India Skills, the country's biggest skill competition, is designed to demonstrate the highest standards of skilling and offers a platform to young people to showcase their talent at national and international levels. India Skills Competition is held every two years with the support of state governments and industry. India Skills Competition is organized to shortlist the candidate from each of the 54 skills. Approximatly around 2500 plus applicants for each of the skills. There are 5 rounds to shortlist the top 10 candidates for Nationals. The Winner of India Skills Nationals, from each skill is being trained intensively for over a year with the help of Industry veterans, corporates and a dedicated Mentor & Expert. He / She will represent our Country at the World Skills International happens once in two years.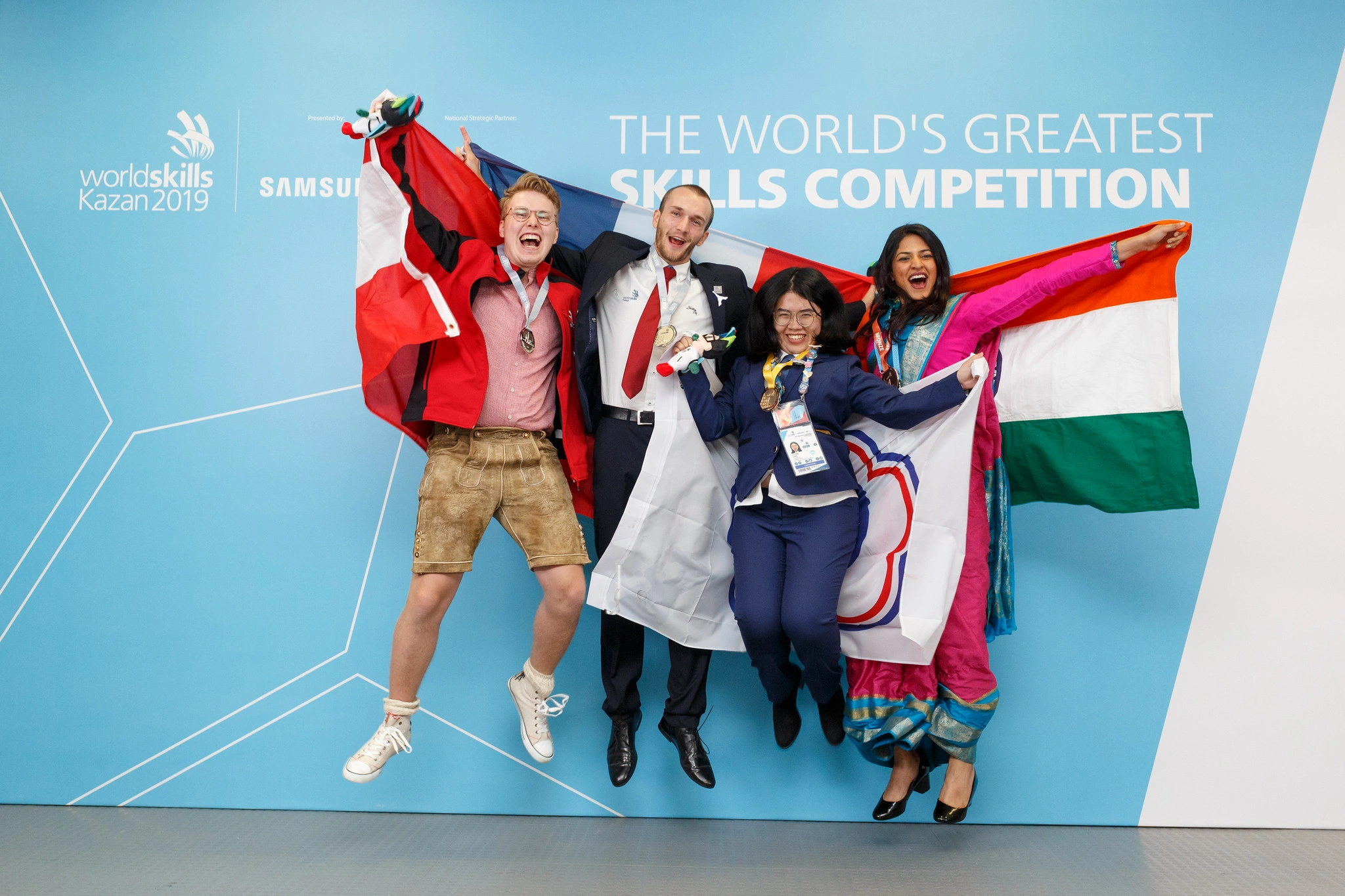 Authorized Training Centre
(AWSITC)
AWSITC will be positioned as an apex institute Excellence and will aim to be India's Premier Schools dedicated to exceptional applied learning and graduate success.
AWSITC will lead in providing skills-based educational programming that integrates theory with application, preparing students for global careers in art foundation, digital and technical fields. Dedicated facilities at AWSITC will have capacity to serve close to 1000+ students annually at its state-of-the-art campus.
"Design Skills Academy with starte of the Art Facilities in Pune is pioneered by experienced professional from the creative industry established as one of the go to Academy for any courses in Media & Entertainment Space. The founder Director Sathish Narayanan is a World Skills Expert and training candidates for India Skills and World Skills International since 2011.
The recent achievement, like Steven Harris – Medallion during 2022 World Skills Switerzerland andShweta Rathnapura Bronze Medal, 2019 Kazan Russia, trained at our academy isthe first ever Indian women WON bronze medal at the world skills 2019 – Russia, Skills Olympics. Our academy also awarded with The Best Academy for Skills Training by the Government of India during 2019. In addition, Design Skills Academy has partnership with VFX and Animation studio and One of the leading Ad film production companies in Mumbai, this enables us to provide internships and one the job training for the students.
India Skills & World Skills training will focus on preparing students for National and International competitions while being a platform for them to compete for representing India in the World Skills Competitions.

HOW
TO APPLY
Simple Steps To Enroll For Course
1

STAGE 01 - COUNSELING PROCESS

Our academic counselor will give you an insight of our unique teaching methodologies, practical-oriented course structure and the various advantages of studying with Design Media & Edutainment School.

2

STAGE 02 - CREATIVE QUOTIENT TEST

Students are required to sit for a creative quotient test which has both practical and objective questions. This test is meant to check the creative thinking of a candidate and also serves as a basis for their scholarship from the institution.

3

STAGE 03 - ENROLLMENT PROCESS

Once a candidate has completed the previous stages, they are eligible to get enrolled into the course of their choice. Students must submit their application forms and demand drafts to the institution to complete the enrollment procedure.
ALUMINI TESTIMONIALS

I am having a great experience really enjoying learning here. Its been 3 months since I am studying in this institute & teaching staff is really good & friendly. They give attention to each & every student. My creative skills have been improved a lot.
Jatin Mata
Adv Diploma in VFX

Faculty of the institute is so much supportive & helpful they give me the opportunities to utilize my talent. Infrastructure is good & lot of focus is given on personality development.
Kunal Sawant
Diploma in VFX
My experience with DSA is excellent. Teaching staff is supportive and the teaching methodology is good. The environment is friendly and also they do conduct seminars and workshops on regular basis. Good coordination between the students.
Jaynil Patel
Diploma in Animation

I am a student of Communication Design at DSA. I have learnt a lot of new things and not just about my course but also other courses through workshop and fellow batch mates. The teachers here supportive and encourage us to give our best at everything we do. I have made a lot of friends and memories that I am gonna treasure them FOREEVER!!!
Manisha Shetty
Adv Diploma in Communication Design