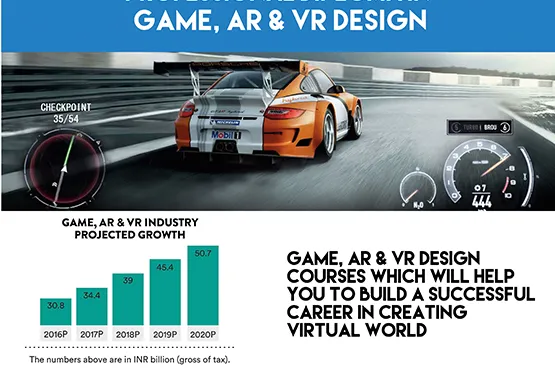 VIRTUAL REALITY
AND AUGMENTED REALITY
What is
Virtual Reality?
Virtual Reality as its name suggests is a three - dimensional computer generated software that induces realistic sounds, images and other sensations which is like that of the real environment. The consumer feels the sensations to be happening for real. A person using virtual reality is able to experience everything in the artificial world. The person is completely isolated from the real world and lives in an artificial world. Virtual Reality is nothing but a specific type of reality emulation.
VR needs head mounted displays or hand held controller for its use.
What is
Augmented Reality?
Augmented Reality is when the environment is augmented by a computer generated software that produces sound, graphics, video or GPS. Unlike Virtual reality, Augmented Reality is adding something to the current reality. Augmented Reality does not transport us to another world. The users are able to connect with the virtual contents in the real world and distinguish between the two. Augmented Reality is just a part of the real world and not the world itself. AR can be used in smart phones, laptops, tablets.
AR/VR
Development
Virtual Reality and Augmented Reality need high-performance computers, specialized software and additional hardware for its development. Developers should have a in - depth knowledge and good understanding of how all the data will be processed and where it will be stored. They should be able to identify the glitches and get solutions for them spontaneously.
Applications of
AR and VR
There are a wide range of applications of AR and VR like in the military, healthcare, education, entertainment, fashion, heritage, sports, media, films, engineering, business etc.
AR is most suitable for marketing campaigns, product activations and launches, print advertising and much more whereas VR is preferred more in the entertainment industry like for video games and social networking in a virtual world.
by Niantic was done using Augmented Reality. The game is a perfect example of what AR may become and what it is capable of.
AR and
VR Careers
The AR and VR market is developing rapidly leading to an increase in career opportunities in the field. According to reports demand for job candidates in VR is 37% more than the last year. If you are a VR professional with experience your knowledge is in demand. Most employers
The number of candidates with VR skills will likely increase, but possibly not at the speed of growing demand. If you're a professional with VR experience, your knowledge is in demand. Most employers are recruiting virtual reality talent for Software Developer (Applications), Computer Systems Analyst, Computer User Support Specialist, and Network and Computer Systems Administrator jobs.
Future of
AR and VR
According to a 2016 Tech Pro Research report, 67% of businesses are considering using AR in the future, while 47% are considering VR for the future.
It is predicted that augmented reality will develop with the mobile technologies. Augmented reality apps will be more popular which provide additional information. Another area where augmented reality is making its mark is computer games (which also include mobile games). Currently there is a selection of games for Mac, PC and various consoles such as the Sony PlayStation which is set to expand.
The VR future is not that bright as compared to that of AR. VR games are in the market and are quite popular. It looks exciting with new developments but experts predict that the popularity won't remain and soon the trend will move on to something else. The other main concern is that VR is expensive. But when looked from the business perspective VR is gaining popularity.
AR and VR
for Business
Companies these days use a lot of the Augmented Reality and Virtual Reality technology to make their business even more appealing. Long Distance Meetings, presentations, trainings with Virtual Reality can be made more impressive and impactful. Organizations also use Virtual Reality for client presentations to make it even more captivating. Augmented Reality is more used in the marketing campaigns and product activations. Billboards, print advertisements, visiting cards etc are made more engaging and alluring with AR.
e digital enhancement to the real world, but the Virtual reality is completely a virtual world.
For courses in Animation, VFX and other designing courses please contact :
Design Media & Edutainment School,
4th floor, Office no 3, Atur Chambers, Opposite SGS Mall, Camp 411001
Contact number : +91 9158 295 950
Contact email : enquiry@designskills.com

HOW
TO APPLY
Simple Steps To Enroll For Course
1

STAGE 01 - COUNSELING PROCESS

Our academic counselor will give you an insight of our unique teaching methodologies, practical-oriented course structure and the various advantages of studying with Design Media & Edutainment School.

2

STAGE 02 - CREATIVE QUOTIENT TEST

Students are required to sit for a creative quotient test which has both practical and objective questions. This test is meant to check the creative thinking of a candidate and also serves as a basis for their scholarship from the institution.

3

STAGE 03 - ENROLLMENT PROCESS

Once a candidate has completed the previous stages, they are eligible to get enrolled into the course of their choice. Students must submit their application forms and demand drafts to the institution to complete the enrollment procedure.
ALUMINI TESTIMONIALS

I am having a great experience really enjoying learning here. Its been 3 months since I am studying in this institute & teaching staff is really good & friendly. They give attention to each & every student. My creative skills have been improved a lot.
Jatin Mata
Adv Diploma in VFX

Faculty of the institute is so much supportive & helpful they give me the opportunities to utilize my talent. Infrastructure is good & lot of focus is given on personality development.
Kunal Sawant
Diploma in VFX
My experience with DSA is excellent. Teaching staff is supportive and the teaching methodology is good. The environment is friendly and also they do conduct seminars and workshops on regular basis. Good coordination between the students.
Jaynil Patel
Diploma in Animation

I am a student of Communication Design at DSA. I have learnt a lot of new things and not just about my course but also other courses through workshop and fellow batch mates. The teachers here supportive and encourage us to give our best at everything we do. I have made a lot of friends and memories that I am gonna treasure them FOREEVER!!!
Manisha Shetty
Adv Diploma in Communication Design